6-12-02
Woke up to dense fog, but the sun burned it off fairly quickly. Started hiking around 8:45. Most of my stuff was packed wet.
We headed a couple of miles downstream, with views of the coastal plain. Not sure if we actually saw the ocean. Lots and lots of caribou all day.
Rounded the bend to the west, and hiked with full views of the coastal plain the whole way. Finally we turned south on the Okerokovik River and we're now camping under the "spires." My camp is right next to the river, a little bit of gurgling can be heard. It was windy before, but the wind has calmed, at least for now. It's my turn to write the group journal tomorrow.
The sky now is a bunch of high, puffy clouds, not too threatening. I'm gonna try tonight without my rainfly.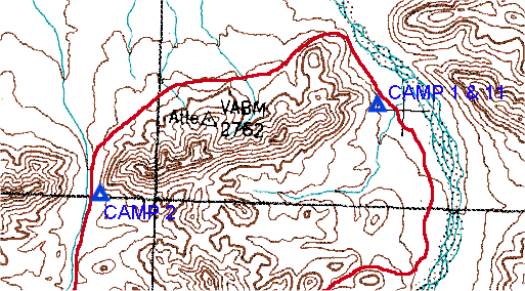 Today's route from the Aichilik River to the Okerokovic River