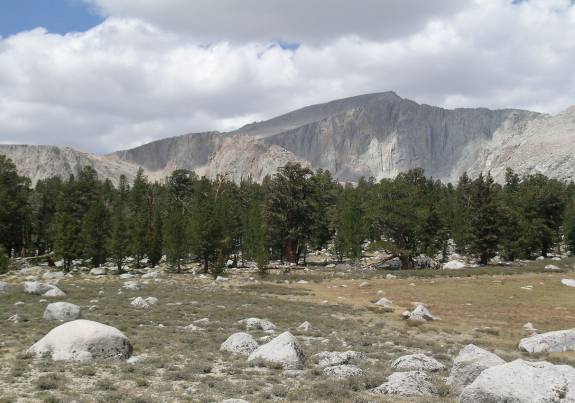 Mt. Langley over Cottonwood Lakes basin
Spent the night after the drive at the trailhead walk-in campground.  Smoke was in the air from a major fire near Santa Barbara.  The smoke obscured some views in the morning, but cleared out by afternoon.  Easy trail hike to start off the trip, neither of us is in the best of shape.  Packs are around 40 pounds.  But it's good to be in the wilderness again.  It's the first (and probably last, sadly) backpack of the year for both of us.
Journal Entry: Started our annual trip today, after driving down to the Cottonwood Lakes trailhead yesterday.  Level trail at first for a couple of miles, then uphill.  Came up to lake #4, just below Army Pass.  Watched several parties descend the pass—should have no technical issues tomorrow.  Got to camp around 2pm.  Winds are gusty here, a few puffy clouds look like they are reducing now in late afternoon.  Smoke in the air yesterday and this morning made for lots of haze, but can't see any now!  Tomorrow's goal is Mt. Langley and into Miter Basin.