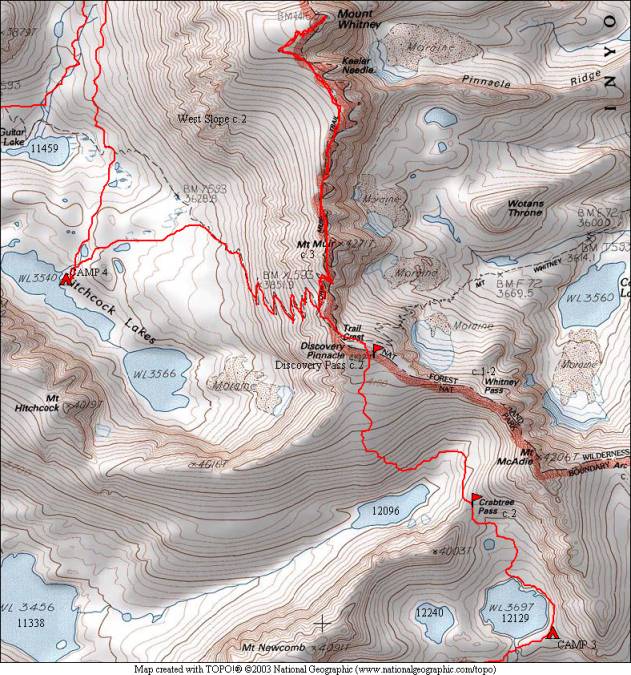 We had originally planned a south-to-north traverse of the Mt. Whitney ridge, but that was not to happen.  We stayed on-track over Crabtree Pass, and were able to stay above Lake 12096 as we traversed around to the slope below Discovery Pinnacle, but we did have to drop a few hundred feet to avoid some vertical areas.  There could have been a way up a chute between the vertical, but we weren't ambitious enough to try any of them and risk having to come down.  We ended up taking a well-traveled but steep slope due north of the lake, which finally leveled off a bit for the final climb up to Discovery Pass.  Suddenly we could see people heading up the Mt. Whitney Trail below us, we had to slide down to the trail.  It was nice to walk on a solid trail after the tough climb in the morning.
Once on the summit, we checked out the mountaineer's route, and lacking anyone to convince us to try it with packs, we opted not to take the risk.  That meant we were facing about 5 miles to get to Guitar Lake.  And Guitar Lake is usually fairly crowded.  We came up with the idea to head over to Hitchcock Lakes, which are surprisingly pristine being so close to so popular of a trail.  As far as we could tell, we were alone at the lower lake other than a trail crew camped between the two lakes.
Journal Entry:  Got started before 8am for a long day.  Climbed to Crabtree Pass, which was fairly easy.  Next we tried to contour around the upper end of Crabtree valley to avoid losing elevation for Discovery Pass.  We had to drop down anyway to find a route that we were comfortable with.  First section was steep scree, then we finally reached a less steep section 600 feet below the top.  Once on top we had a view of the Mount Whitney trail into its valley.  Slid down to join the trail just before Trail Crest.  Took the trail to Mt. Whitney summit, arriving around 3:30pm.  Took a look at the Mountaineer's Route and we both decided not to risk downclimbing the steep, loose rock with packs.  At this point, we were both pretty tired, but without enough water to stay on top, decided to come down the trail to the west.  We ended up at the lower Hitchcock Lake around 7pm.  Tomorrow is uncertain now, but we have several options.