Red Peak Pass 2017


August 22-27, 2017

My regular backpacking partner for the August trips couldn't make it this year, so I decided to do an on-trail trip alone, three days shorter than normal but more mileage. My choice was to do the Red Peak Pass loop southeast of Yosemite Valley. I had been wanting to go back and do this loop again for over 10 years now. Back in 1993, this was one of my first backpacking trips. For this trip, I did the loop in the opposite direction, and started/ended at a different trailhead. In 1993, I had started in Yosemite Valley and did the loop clockwise. This time, I started at the Mono Meadow trailhead on Glacier Point Road, and did the loop counter-clockwise. I spent 6 days this time vs. 5 days in 1993, and carried much less weight as gear has gotten a lot lighter over the last 24 years.
The highlight of this loop is Red Peak Pass, at around 11,150 feet elevation. It is the highest trail in Yosemite National Park. I expected snow on this pass and I was not let down. There were snowbanks over parts of the trail on both sides of the pass. But they could either be safely crossed (not too steep), or could be walked or climbed around without too much trouble. There were three creek crossings that I removed my boots for, the upper Illilouette Creek crossing below Merced Pass Lakes, the upper crossing of Merced Peak Fork (lower crossing has a bridge), and the return crossing of Illilouette Creek on the last day.
I saw one bear, a black colored one the morning of the second day. He was east of the trail, and was rambling the same direction I was for a while. He pretty much ignored me and went on with his business. I saw no pikas on this trip, however I heard their chirps on numerous occasions. I heard chirping pikas as low as 8300 feet or so when descending to the Merced Peak Fork above Washburn Lake. I was surprised but happy to hear them at such a low elevation.
There were a couple of fires burning to the west of this loop, I had smoke the first and last days, as the trailhead was the closest point to the fires. For most of the trip, the smoke wasn't visible, but it tended to come around in the afternoon each day and obscure some of the long range views. The weather was mostly pretty good, with clouds in the sky but mostly dry. The exception was the second day, late afternoon at Ottoway Lake, where I had sprinkles for a couple of hours and a fair amount of thunder.

I saw very few people on most of this trip. Between Red Devil Lake and the Merced Lake Ranger Station (a full 24 hours), I didn't see a single person. I counted a total of 10 people the first 5 days, up until arriving at Little Yosemite Valley campground. There were at least 100 people camped here, most of whom were probably climbing Half Dome. This is the most popular backcountry area in the park. Leaving the campground the last morning, I saw quite a few Half Dome day hikers on the way to Nevada Fall, then two backpackers on the Panarama Trail. After that, I saw nobody else that last day until a few day hikers within a half mile of the trailhead.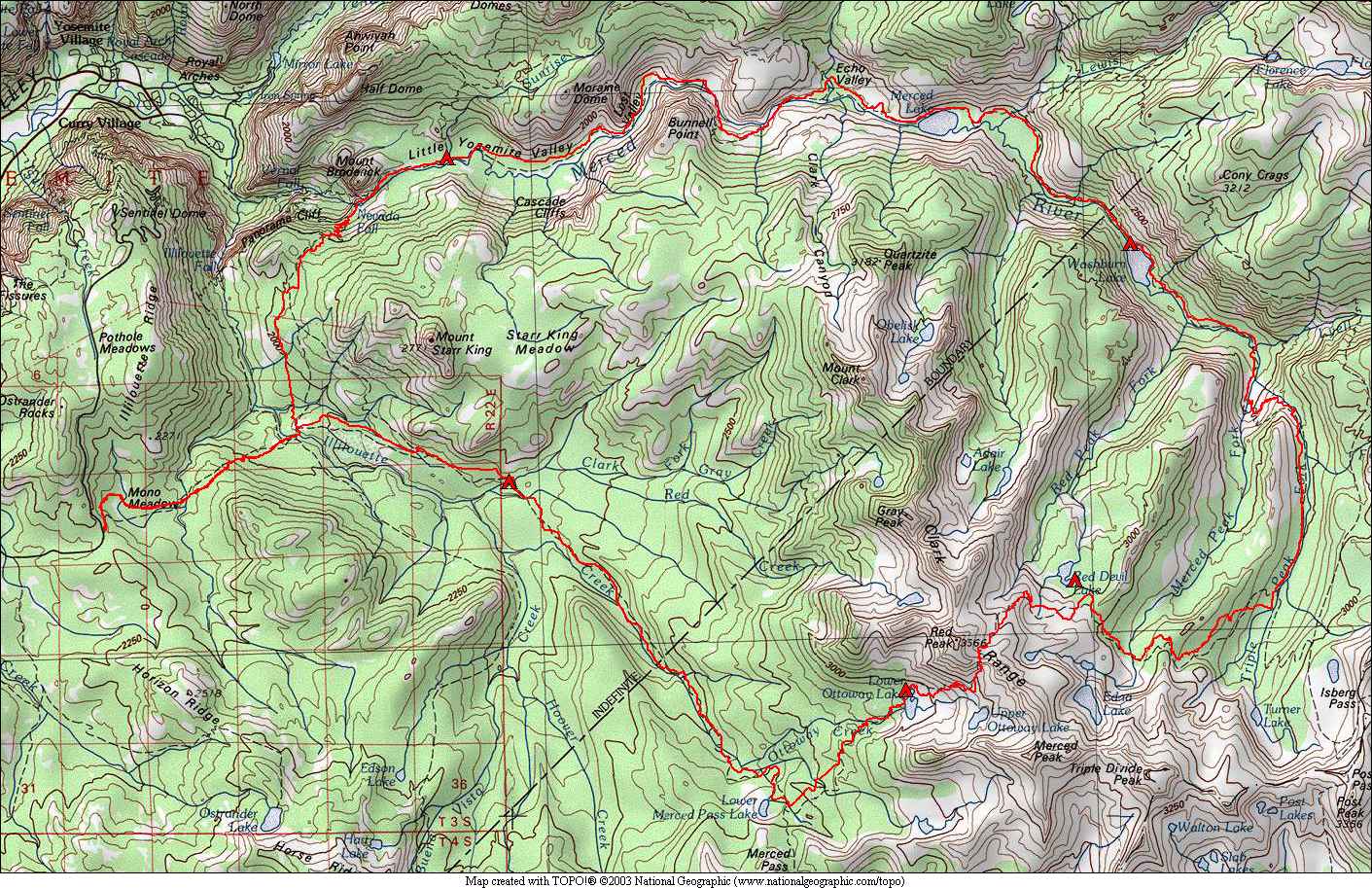 | | | |
| --- | --- | --- |
| trail through Mono Meadow | Illilouette Creek crossing | campsite at Clark Fork (first night) |
| trail views | bear second morning | |
| Mt. Starr King | marshy Lower Merced Pass Lake | |
| Lower Ottoway Lake | morning reflections in Ottoway Lake | |
| Red Peak Pass above | flowers near the trail | |
| Merced Peak | view to the north from the pass | view to the east: Banner, Ritter, Minarets |
| looking back up at the pass on the way down | Red Peak Pass in center | view back toward the pass |
| Red Devil Lake below | large erratic | pond on the way down to Red Devil Lake |
| evening reflection in Red Devil Lake | Red Peak reflected in Red Devil Lake | view to the south from the trail |
| view east | Clark Range above Triple Peak Fork | |
| Washburn Lake below in smoky haze | Triple Peak Fork waterfall | Washburn Lake from campsite on north shore |
| Merced Lake | Merced Lake | Merced River cascades below Merced Lake |
| Bunnell Point above Merced River canyon | trail above Merced River | |
| Half Dome and Liberty Cap | smoke rising from behind Mono Meadow | Mt. Starr King and various other granite domes |