Split Mountain 2012

To Dumbbell Lakes

Wednesday, August 22, 2012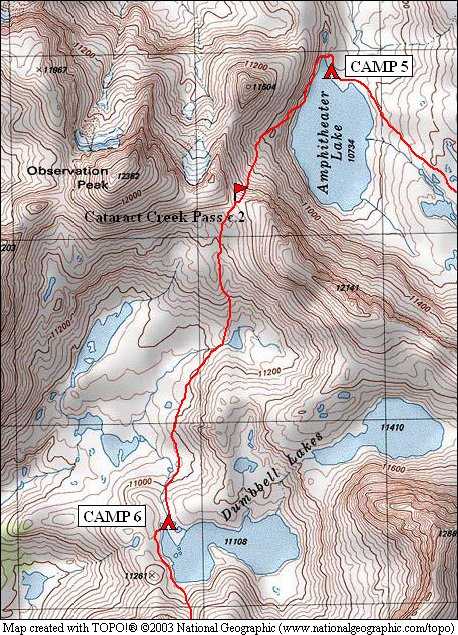 Yesterday morning below Split Mountain we were under the impression that the rain was behind us as the night dropped into the high 30's indicating the humidity was lower. But we were mistaken. Normally, thunderstorms are afternoon events in the Sierra. This one came in the middle of the night. In late evening, we could see lightning to the north, perhaps in the Big Pine Creek area north of the Palisades. By very early morning the lightning was right above us and the rain was coming down! Convenient timing for heavy rain, when you're in your tent anyway!
Luckily we had a short day planned, as the dark clouds mostly stuck around. We decided in the morning to continue our original plan to go into Dumbbell Lakes basin, crossing Cataract Creek Pass. This pass was fairly easy, especially on the south side. We got to camp early, and endured some afternoon rain. Again this weather had convenient timing for us!
Journal Entry:

Strange weather on this trip—at around 1:30am we got thunderstorms and heavy rain, finally quit by morning. Got a late start for an easy day over Cataract Creek Pass. Climb was talus and scree "trails"—scree wasn't as slippery due to the rain. Easy descent to Dumbbell Lakes with on & off sprinkles. Has been thundering more toward mid-afternoon. Got to our target lake below tomorrow's pass before 1pm, found a campsite. Expecting rain, as sky is dark now. Tomorrow we cross Dumbbell Lakes Pass and Cartridge Pass.



Palisades in low clouds






Cataract Creek Pass above Amphitheater Lake








Cataract Creek leaving Amphitheater Lake






Cataract Creek Pass from halfway up










Cataract Creek Pass talus




Amphitheater Lake






Last section ascending Cataract Creek Pass
note snowfield at the top




Dumbbell Lakes basin from near the pass












Dumbbell Lakes basin






One of the lower lakes












Observation Peak right of center






View from campsite at Lake 11108