Caye Caulker
March 1-4, 2006
Caye Caulker…  laid back, relaxing, tropical island.  It was nice not to have to deal with cars at all for a few days.  The island is small enough to just walk everywhere.  It was a great place to unwind and get into the swing of our vacation.
Here we didn't have anything planned, just the flight in and a hotel room reserved.  We arrived around 6pm, and after having dinner we walked down Front Street and found a booth with information about snorkeling tours.  We "signed up" for an all-day tour and were told to show up there at 10:30 the next morning.  There really isn't any good snorkeling right from the island, the good stuff is a short boat ride out near the barrier reef, so a tour is the way to go.
Our second full day here we spent walking around the island and relaxing.  Steve enjoyed the sunrises each morning, while Patty enjoyed sleeping in!
Weather was humid (compared to California!), and we got sprinkles a couple of times, one of them while we were in the water snorkeling.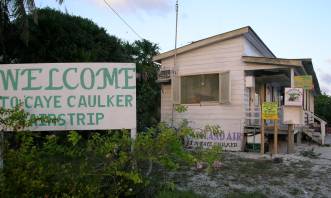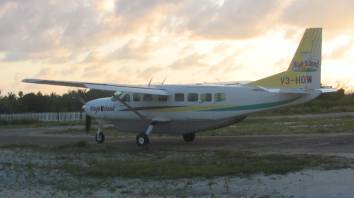 The "terminal" at Caye Caulker Airstrip and the plane that we arrived on
We grabbed our luggage and dragged it through the sand to find our hotel a few blocks away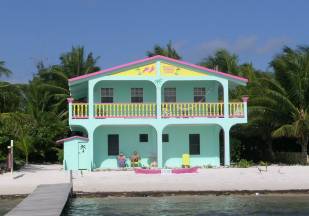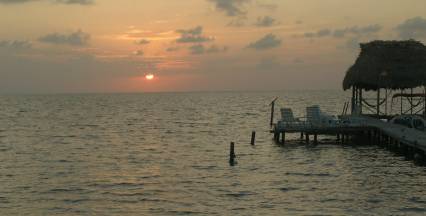 Our hotel, "Barefoot Beach Belize".  We stayed in the room on the ground floor on the right in this picture.
Sunrise from the beach in front of our hotel, and the hotel's private dock.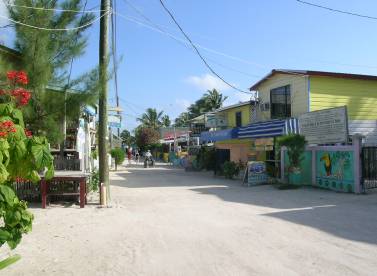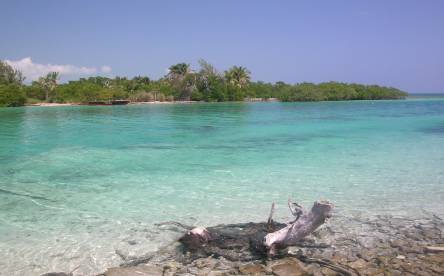 Front Street and The Split, a narrow channel between islands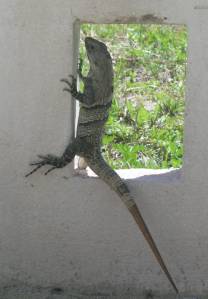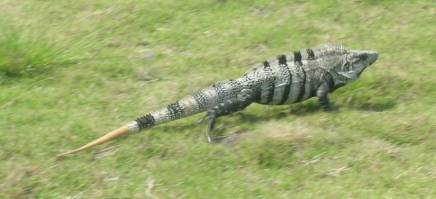 A sampling of the local reptiles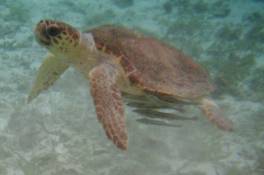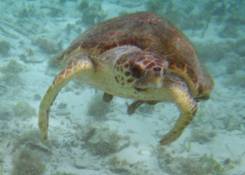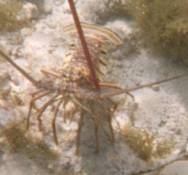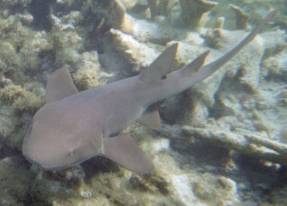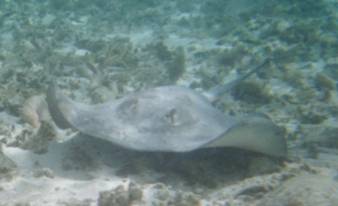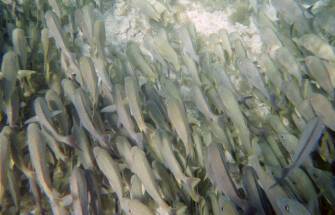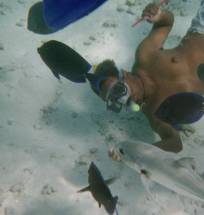 These pictures are from our snorkeling tour, to the north and east of Caye Caulker.
Underwater creatures, including Carlos, our guide, feeding a tuna.
The tour visited three locations:  Coral Gardens, Hol Chan Marine Reserve, and Shark-Ray Alley.
We stopped for lunch in San Pedro on Ambergris Caye.
Dining on Caye Caulker
March 1
            dinner – Bamboo Grill
March 2
            breakfast – Marla's Kitchen
            lunch – Cannibal's (San Pedro)
            dinner – Rasta Pasta
March 3
            breakfast – Tropical Paradise
            dinner – Rainbow Grill & Bar
March 4
            early lunch – Rasta Pasta