Belize 2006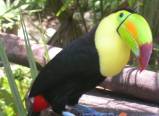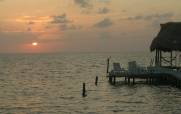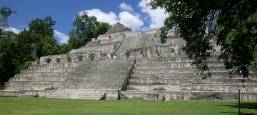 In March 2006, Steve and Patty went to Belize, a small country in Central America bordering on Mexico and Guatemala. The international airport is located outside of Belize City, near Ladyville. We flew in on Continental Airlines, and transferred to Maya Island Air, a domestic airline. A short 10-minute flight had brought us to our first stop.
We spent three nights on Caye Caulker at Barefoot Beach Belize. Caye Caulker is a small island just inside the barrier reef, the second longest in the world behind only the Great Barrier Reef of Austrailia. Caye Caulker is a great spot to relax, there are virtually no cars on the island, and the airstrip was the only pavement we saw. Everything is an easy walk. We took a snorkeling tour one day, and the following day simply relaxed. We left Caye Caulker on the water taxi, which took us to Belize City.
In Belize City, we were met by the driver for Mopan River Resort for the two-hour drive to Benque Viejo del Carmen near the Guatemala border. We spent seven nights at this all-inclusive resort, going on a different adventure each day. After our stay here, we were taken back to the international airport for our return home. It was sad to leave Belize!
Click on the red triangles on the map below for more details and pictures! Or, to visit them all in the same order we did, start with Caye Caulker and follow the "next adventure" links on each page.
Where is Belize? (and other facts about the country)