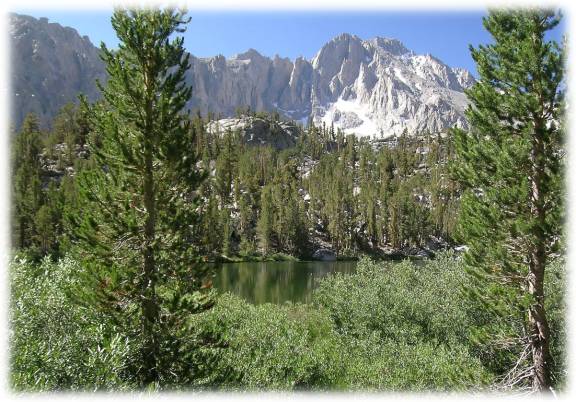 University Peak above Gilbert Lake
One of the "toughest" days today… all on-trail but 8 miles or so.  Up 2500 feet in elevation from the trailhead to Kearsarge Pass, then down to Bullfrog Lake, which does not allow camping.  Our goal was Charlotte Lake, which was up and then back down again.  We had seen Charlotte Lake from the John Muir Trail (JMT) in 1995, but neither of us had ever visited it.  There is a backcountry ranger station at Charlotte Lake.
Journal entry:  Drove down to Onion Valley trailhead yesterday, camped at the Onion Valley campground, which is right next to the trailhead parking.  A few sprinkles fell from a few dark clouds.  Got started on the trail at 8:30am.  Up and over Kearsarge Pass around 1pm, and down to Charlotte Lake for camp by around 4:30pm.  Lots of people on the trails, and lots of people camped at this lake.  Weather held out today, just a few afternoon clouds.  Tomorrow's goal is up & over Gardiner Pass.