Lyell, Hutchings Creek, and Vogelsang 2018
Vogelsang Lake to Rafferty Creek

Monday, August 27, 2018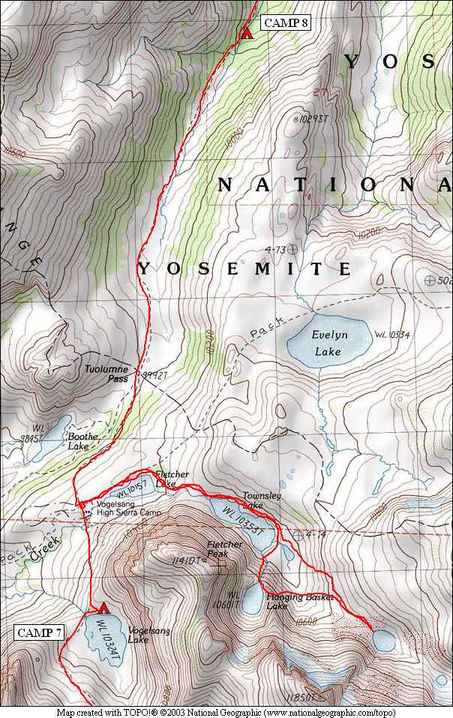 Without a side trip, this would have been a very short (and boring) day. We had already decided to make a side trip up to Townsley Lake and possibly the high lake above it. After seeing the slope to Hanging Basket Lake, we debated adding that as well, and decided to do it on the way back down from the high lake. It was a good day with a little more off-trail and alpine terrain to top off the trip!

Tuolumne Pass from this direction doesn't seem like a pass, as you descend to it! But it is on the dividing line between the Merced and Tuolumne River drainages. Rafferty Creek on the other side had no water, but we knew this ahead of time as we were warned by the ranger when getting our permit, and we also crossed it early the first day. So we were prepared, filling two quarts each at Fletcher Lake for the dry night.

Journal Entry: Late sun—after 8am—but not too cold last night—low of 45F. Headed down from Vogelsang Lake to Fletcher Lake, then up to Townsley Lake on a good use trail. Headed up to the next lake up the basin, mostly on easy terrain, but the last part was on talus. Lunch break at the lake, then headed down to climb to Hanging Basket Lake, a unique lake in a high bowl. Then at 2pm it was time to start our hike out, back to the trail and over Tuolumne Pass, and down to 9600 ft. or so on Rafferty Creek where we are camped—arrived just before 5pm. Tomorrow we have about a 5 mile hike, then head home!



Half Dome and Clouds Rest






Emeric Lake and Clouds Rest






squirrel at Fletcher Lake






Fletcher Lake






Fletcher Lake






Townsley Lake






animals seem to like Townsley Lake






the high lake behind Townsley






high lake




Hanging Basket Lake




Ron overlooking Townsley Lake from Hanging Basket




Townsley Lake




Hanging Basket Lake