Lyell, Hutchings Creek, and Vogelsang 2018
Bernice Lake to Vogelsang Lake

Sunday, August 26, 2018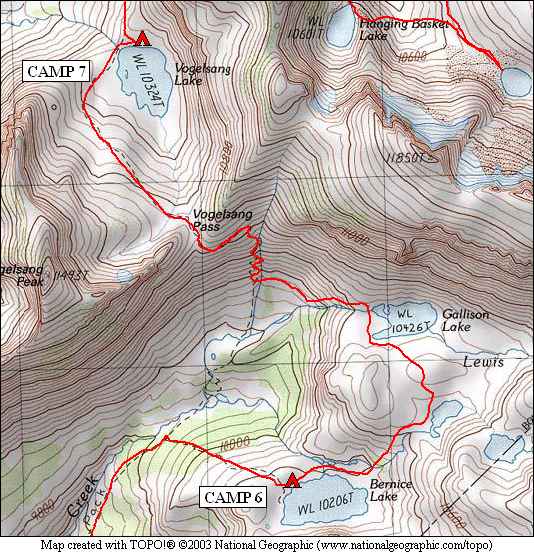 We decided to do a little off-trail today to get from Bernice Lake to Vogelsang Lake, rather than just taking the trail. This also saved a bit of elevation change! The difference between Bernice and Gallison Lakes is quite striking, with Bernice Lake having a fair number of trees around it and Gallison Lake having no trees at all and just a barren meadow surrounding it. This can be seen in some of the pictures from near Vogelsang Pass.
We were initially unsure about the route from Gallison Lake back to the trail. Ideally, we would stay at the elevation of Gallison Lake and head over to meet the trail. The terrain at that elevation was not as good as dropping a couple hundred feet from the lake, so we chose that option. The route was grassy with a few rocks here and there, but not at all difficult. Vogelsang Pass is a very broad pass, where you can't see both directions from a single point. Vogelsang Lake is only about 300 feet down from the pass so the end of our hike today was quite easy.

Journal Entry: 36F was the cold point last night again. Got started around 9:00, headed up toward Gallison Lake, 200 ft. higher. Easy day with long breaks. After Gallison, headed down the outlet off-trail to meet the trail to Vogelsang Pass. This section was a bit grassy with some sage, pretty dry. A few slabs and a bit of talus. Met the trail at around 10,150 ft. or so, then uphill on the trail to the pass. Awesome views on the way up! Easy and short downhill to Vogelsang Lake where we found a somewhat sheltered campsite in trees at about 2:30. A few day hikers around. Tomorrow we plan to visit Townsley Lake and maybe a higher lake beyond on our way to Tuolumne Pass and Rafferty Creek.

bear prints in the mud, right where we saw
the bear yesterday




looking back to Bernice Lake






Vogelsang Pass and Gallison Lake






Mt. Clark from Gallison Lake






Mt. Clark down Lewis Creek valley






Gallison Lake (left) and Bernice Lake (right)






Mt. Clark down Lewis Creek valley






trail nearing Vogelsang Pass






Vogelsang Lake from the pass




Vogelsang Lake




Vogelsang Lake and Pass




marmot near our camp