El Calafate, on the shore of Lago Argentino, makes a great base for trips to southern Patagonia. It has a new airport (built in 2000) and has bus connections to the other areas we wanted to see. Our first stop was El Chalten, and we took a Chalten Travel bus to and from here.

El Chalten is known as the "hiking capital of Argentina" due to its location near Mt. Fitz Roy. We spent two nights there and did get to see Mt. Fitz Roy without clouds the last day!

We returned to El Calafate and prepared for our bus trip across the border into Chile. The Cootra bus took us to Puerto Natales, a small town south of Torres del Paine National Park, our next stop. We rented a car here to give us more flexibility in the large park (and lower cost from not having to pay for tours). Most of the road from Puerto Natales to the park was gravel, but our small Toyota Yaris seemed to handle it ok. Most of the roads were pretty smooth, but there were several bad areas. This was in contrast to all of our travel in Argentina, which was on paved roads despite reading about some of the roads being unpaved. I suspect some of the roads had been recently paved.
In Torres del Paine, we did some hiking and took a boat tour across Lago Grey to view the Glaciar Grey up-close. We also enjoyed the local wildlife, including guanaco and rhea. We stayed at the awesome Lago Tyndall hotel, which has an awesome view of the cluster of mountains in the park. After leaving the park, we took the eastern road back to Puerto Natales, which was a fair bit smoother than the western road. We then took the bus back into Argentina and immediately caught our flight from El Calafate to Ushuaia in the southern tip on the island of Tierra del Fuego.

Follow these links for more details: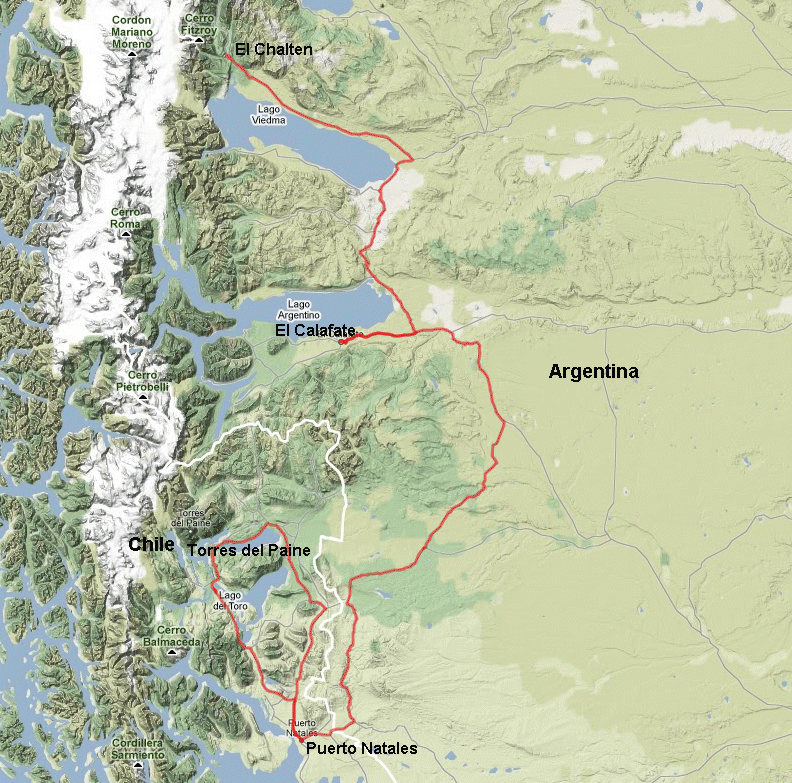 This map shows our bus and car route in red. We flew in and out of the El Calafate airport, which is just to the east of town. The white line on the map is the border between Chile and Argentina.