Rattlesnake Creek, Kern Canyon, and Little Five Lakes 2015

Little Five Lakes to Spring Lake

Thursday, August 27, 2015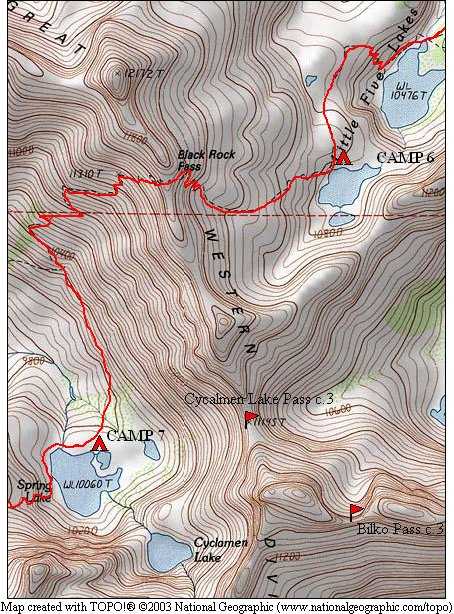 Black Rock Pass crosses the Great Western Divide at around 11,700 feet elevation. After following the trail down some distance, we left the trail (first time this trip!) and traversed over somewhat steep terrain to Spring Lake. It may have been easier to drop a bit lower into the valley onto flatter ground. At Spring Lake, we met a group of amphibian researchers who work for the park service, looking for frogs at the lake.
Glacier Pass, being rated class 3, was a concern for us the next day. We have stuck to class 2 for the most part on past trips. But the alternative to Glacier Pass is to head far, far down into the valley below Spring Lake, and then take Timber Gap to get back to Mineral King. That didn't sound like much fun. But a ranger came by our campsite and set our concerns to rest for the most part.

Journal Entry: Smoke cleared a bit later, lots of pikas at lake. Easy hike up to Black Rock Pass, arrived around 9:30. West side of pass was much smokier. Downhill on trail to about 10,300 ft, then off-trail to Spring Lake. Several others camped here. Arrived early, around 1 pm. Smoke has cleared a bit by 3:30. Ranger came by off of Glacier Pass and gave us details about the pass. Tomorrow we go over Glacier Pass to Monarch Lake.
| | |
| --- | --- |
| early morning light | Kaweah range from high lake campsite |
| Kaweah range and high lake | marmot patrolling the trail |
| Black Rock Pass towering above trail | Little Five Lakes below (and one Big Five Lake) |
| Ron & Steve on Black Rock Pass | Spring Lake in the smoky haze |
| valley below Spring Lake | Black Rock Pass and the slope we came down |