Kaweah Basin 2020
Junction Meadow to lower Kaweah Basin

Monday, August 24, 2020
The first of our off-trail today as we left the trail in the Kern-Kaweah River canyon and followed the drainage up the outlet stream from Kaweah Basin (which isn't named on the map). We took a different route out of the basin for variety. I would say our route in was probably a bit more difficult than our route out, although that could be clouded by the uphill vs. downhill difference. The map on this page shows all of our off-trail route (today through early Thursday) in and out of Kaweah Basin.
We had originally planned to visit another area just to the south, sometimes called "Red Spur Basin," primarily for the views that it might have to the Sierra Crest. We opted out of that due to the extra effort and the smoke in the air that day. Next morning we were paid back for that decision with some awesome reflections of the Kaweah range in the lake we camped at (Camp 4 on the map).

Journal Entry: No more storm yesterday, but had some on-and-off sprinkles 2:30-7:30am or so. Started hiking 7:45, first part up the Colby Pass trail, a bit overgrrown in spots but easy to follow. Left the trail at 9200 ft. and headed up the Kaweah Basin outlet creek, on the east side. Some challenging sections to get through, but we made it to the lower lake without major incident. Continued on to the next lake, just as challenging. Made it at 2:00 or so. Decided not to continue to Red Spur Basin and just skip that part. Smoke has been around since late morning, obscuring longer range views. Hoping that it clears. We can smell smoke and some ash has been landing on things. We saw nobody since Junction Meadow. Some clouds but no rain or thunder yet at 4pm. Tomorrow should be an easy day into upper Kaweah Basin.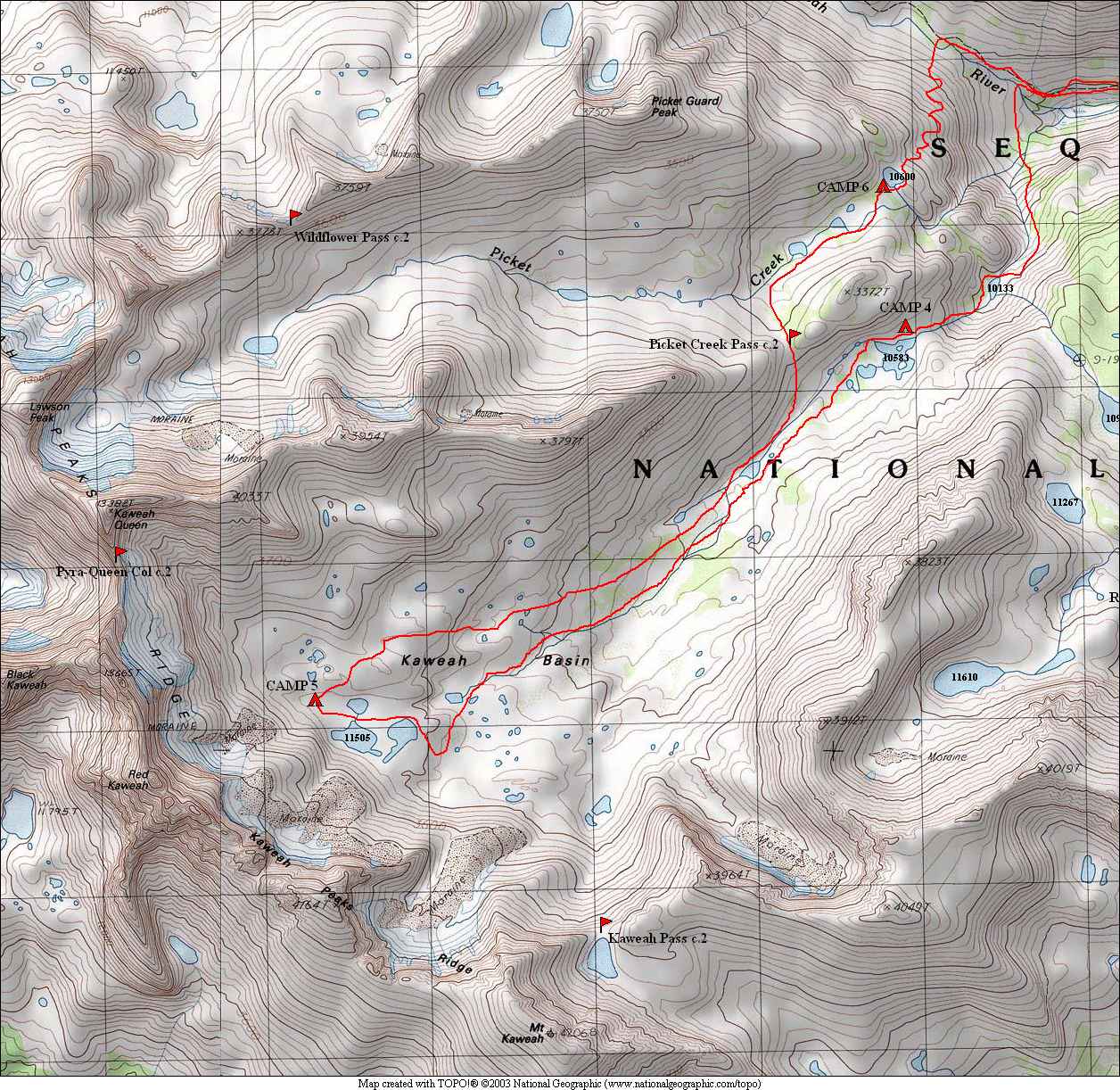 | | |
| --- | --- |
| uphill out of Junction Meadow, trail goes on the right | trail up a bit higher |
| view back toward Junction Meadow | view up canyon |
| view back | the valley we were headed for |
| ascent to Kaweah Basin off trail | first lake at 10133 ft. |
| Ron at the first lake | smoky view back down to the first lake |
| second lake at 10583 ft, Kaweahs in smoky haze beyond | Kaweahs over second lake with smoke clearing |
| Kaweahs over second lake | second lake and ridge to the south |