Lyell, Hutchings Creek, and Vogelsang 2018
Upper Lyell Canyon to Maclure Lake

Tuesday, August 21, 2018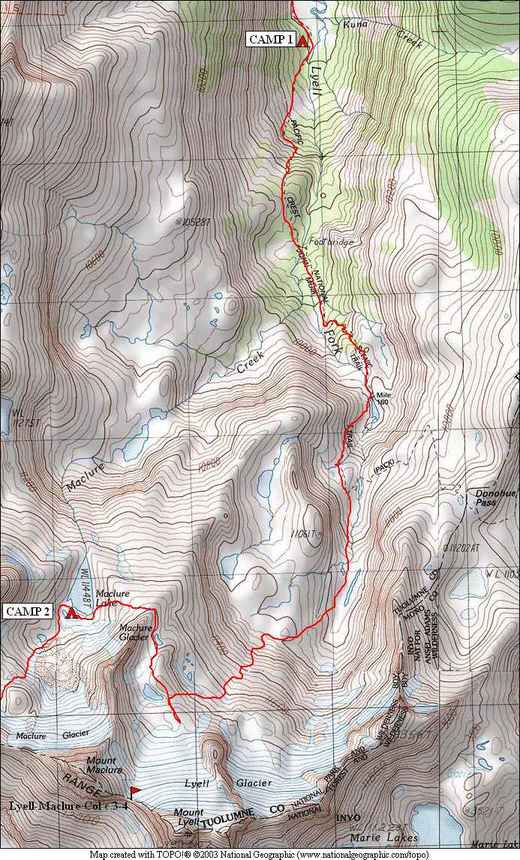 Although the map shows two glaciers in our vicinity today, neither is considered to be a glacier any more as the movement has stopped. The extent of the remaining snow fields was quite a bit smaller than that shown on the map, especially since last winter had below average snowfall. But they are still impressive.

The John Muir Trail leaves Yosemite National Park over Donohue Pass to continue south. We left the trail still inside the park at the 10,500 foot level, and headed southwest off-trail. The terrain here makes for fairly easy travel over meadows and slabs of granite for the most part. There were a few talus fields here and there as well. Easy travel around the end of a ridge and over slabs down to Maclure Lake ended the day for us.

Journal Entry: Night down to 41F. Got started around 8:30, on trail the first 1500 ft. of elevation gain. Saw a few people. Left the trail at 10,500 ft. and continued over some talus, but most of the off-trail was over slabs and grass which was nice. Got up to a high lake at around 11,900 ft. A hill behind it gave views of what is left of the Lyell Glacier. We didn't walk over to it though. Headed around a ridge and down slabs to Maclure Lake at 11,500 ft. Got here around 4:30 and found campsites between Maclure and another small lake. Tomorrow is Russell Pass! Great weather again today, a bit breezy.
| | |
| --- | --- |
| view back down Lyell Canyon | the crest east of Mt. Lyell |
| infant Lyell Fork of the Tuolumne River | looking back just after leaving the trail |
| typical off-trail terrain, meadows and slabs | the crest near Mt. Lyell |
| view to the north with Lyell Canyon in the distance | the ridge we rounded to get to Maclure Lake |
| east side of Lyell Glacier | high lake at 11,900 feet |
| high lake | west side of Lyell Glacier |
| Ron posing on hill south of high lake | view north, we rounded this ridge on its right side |
| west side of Lyell Glacier and the high lake | couple of other small lakes and the ridge |
| Russell Pass (low point at center) | Lyell Canyon |
| Maclure Lake | Maclure Lake |