Lyell, Hutchings Creek, and Vogelsang 2018
Maclure Lake to Upper Hutchings Basin

Wednesday, August 22, 2018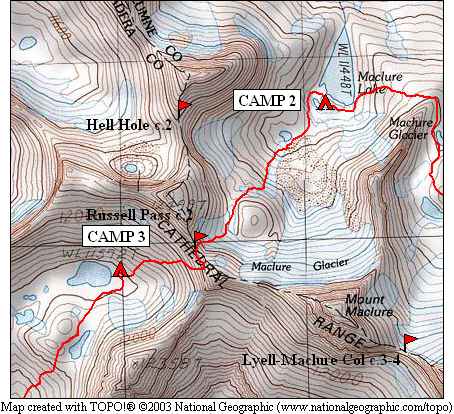 Big day today, crossing Russell Pass which marks the highest point on the trip at around 12,200 feet elevation. The uphill side wasn't bad, only around 700 feet of elevation gain from our camp, and mostly over stable talus and snow fields. The pass was narrow, you could call it a "knife edge," but the views were great! The descent was one of the most difficult I have done, with a mix of sand/scree and larger rocks that all wanted to slide at once when you took a step! The recommended point to start the descent at is slightly south of the low point on the pass, where the rocks are primarily reddish in color. There are several routes to choose from, but they all looked about the same difficulty. The slope gets less steep several hundred feet below the pass, and therefore much easier.
As at most of the high camps on this trip, we heard pikas chirping. But at this camp, there was at least one living close to where I was camping, and in the evening he was running around checking out my campsite!

Journal Entry: Started walking 8:45. Crossed snow and talus with some small slabs, up to Russell Pass at 12,200 ft. Arrived at 11:30 or so. Fairly narrow pass with great views in both directions. Headed down by the red rocks south of the low point. Loose rocks for the first couple hundred feet, not pleasant! Then scree or talus, followed by slabs if you go the right way. Arrived at the high lake at 11,572 ft. around 2:00. Not a cloud in the sky, so very sunny here with no shade. There is a breeze from time to time so it's not too hot. Hear pikas around! Tomorrow's plan is flexible at this point.
| | |
| --- | --- |
| small lake next to Maclure Lake | Mt. Maclure and the high lake at 11,550 feet |
| Mt. Maclure | Maclure Lake and Lyell Canyon |
| Russell Pass | Ron crossing the final snow field below the pass |
| terrain just below the pass | Russell Pass, almost there! |
| view west from Russell Pass, Mt. Florence in center | back to the east from the pass, Ron almost there! |
| knife edge pass | celebrating the high point of the trip |
| the route down the west side, red rocks | steep route down |
| looking back at Russell Pass from below | campsite at Lake 11572, Mt. Florence in back |
| Russell Pass from Lake 11572 | Lake 11572 and the saddle we will cross tomorrow |
| pika checking out my camp | alpenglow in the evening |