Lyell, Hutchings Creek, and Vogelsang 2018
Descending Hutchings Creek

Thursday, August 23, 2018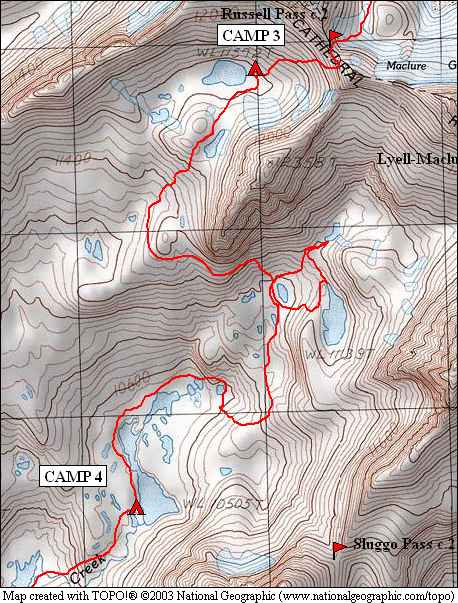 There was an option today to visit another basin, to the east of the one we were in, accessed by Sluggo Pass as shown on the map above. We initially planned to do just that, which would have put us a day behind schedule, but without worry as the end of the planned trip included two short days that could easily be combined into one. After taking a look at the pass when we rounded the ridge, we decided not to do that and take in an easier day instead.
We dropped to the small lake just below 11,000 feet (middle of the red loop on the map), believing it to be Lake 11139 at first. But we soon figured out that Lake 11139 was a bit to the east, and higher than we were. Turned out it is in somewhat of a bowl, most easily accessed from its outlet which flows to the north from the lake. After visiting this lake, we decided to visit the highest lake in this part of the basin, with Mt. Maclure and Mt. Lyell at the head of the basin. Looked like lots of talus above this lake, to head up to Lyell-Maclure Col, which is a difficult class 4 pass between these two mountains heading back to the area we came from two days ago. This side of the col looked vertical from our vantage point.
We then headed downhill over fairly easy terrain to Lake 10505, which includes a sequence of smaller ponds to its north. We just had to avoid the cliff that rises directly north of the northern-most pond. We found a beautiful campsite at the south end of this lake with views across the lake to Mt. Maclure and Mt. Lyell. Winds were calm so we had some good reflections in the lake as well!

Journal Entry: Started the day planning to go over Sluggo Pass via the south basin of Hutchings Creek. Headed up and over a hill with talus, then around the end of a ridge. Looking for Lake 11,139. Turns out it is in its own bowl near a cliff, found it and went in near its outlet. Decided not to do Sluggo Pass but instead stay on original itinerary. Headed up to the highest lake at just over 11,200 ft, then down to lake 10,505 to camp. Got here around 4, found campsite near outlet with awesome view of Maclure and Lyell! A bit of smoke rolled in late morning but was gone a couple of hours later. Weather continues to be perfect! Tomorrow we go back to trail, joining the high trail above Lyell Fork Merced River.



Mt. Florence and Lake 11572






pond on the saddle south of Lake 11572






view from the saddle to the Clark Range in the distance




zoom in on Clark Range with Red Peak
Red Peak Pass, which I crossed last year, is to its left




Sluggo Pass (left) and Lake 10505 (right)






Lake 10505 and the Clark Range






Mt. Maclure and Mt. Lyell (both left of center)






Mt. Maclure (right) over pond just below 11,000 ft






Sluggo Pass behind Lake 11139




Clark Range with Red and Gray Peaks




view down basin with Clark Range in the distance




Mt. Maclure and Mt. Lyell
Lyell-Maclure Col is between them




high lake at 11,200 ft and Mt. Maclure (right)




Sluggo Pass over Lake 11139




small waterfalls in the creek




waterfalls and pond




Lake 10505 stretching below




tadpoles in a pond connected to Lake 10505




Maclure and Lyell (center) over Lake 10505




looking east over Lake 10505




campsite at Lake 10505




evening reflections from camp




alpenglow and reflections!