Rattlesnake Creek, Kern Canyon, and Little Five Lakes 2015

Rattlesnake Creek to Kern Hot Springs

Sunday, August 23, 2015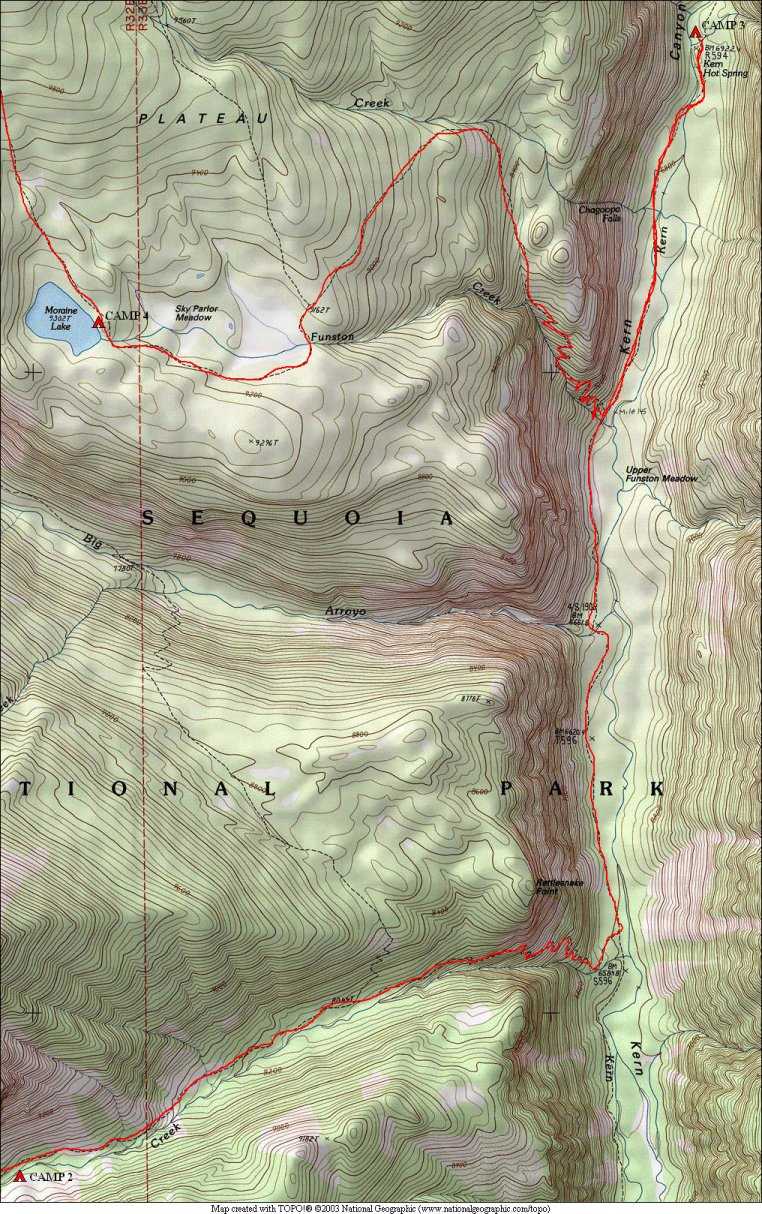 Today we continued down Rattlesnake Canyon to the deep Kern Canyon, reaching the low point of the trip at the bottom of the canyon at 6600 feet elevation. We then turned left and followed the canyon a few miles to Kern Hot Springs. This is a popular stop along the High Sierra Trail, and the number of people camped there proved it! We called it a "city." We found a quieter campsite just north of the Rock Creek crossing. The hot springs were pretty much the same as I remembered them from a trip back in 1994. There is a natural hot pool and a concrete tub with pipes to fill and drain the tub.
We saw our only bear of the trip today, but unfortunately no pictures. He was on the other side of Rattlesnake Creek from the trail, just before the big drop into Kern Canyon. As soon as he saw me, he went barreling up the side of the valley and out of sight. No time to even think about getting my camera out!

Journal Entry: Nice weather today with no smoke! Left camp around 9, long drop into Kern Canyon, got to the bottom around noon. Relatively level walk 4 miles, up only 300 ft. to Kern Hot Springs. Lots of people camped here, some on rest day. Hot tub same as I remember from 1994. We decided to change our route due to smoke risk north of here, and scaling back on tough days. So tomorrow we head up 2400 ft. to Moraine Lake.
| | |
| --- | --- |
| cascades on Rattlesnake Creek | down Rattlesnake Canyon toward Kern |
| more cascades | drop to Kern Canyon ahead |
| cascades with trail on right | Kern Canyon and Kern River |
| Kern River | Chagoopa Falls |
| Kern Hot Springs | concrete tub at the hot springs |