Today was probably the easiest day of the trip.  Just a bit of talus hopping to get up and out of Williamson Bowl, then easy off-trail over to Shepherd Pass.  Now we were on familiar terrain, and on-trail too!  Easy downhill to peaceful Anvil Camp, where we lounged for the afternoon.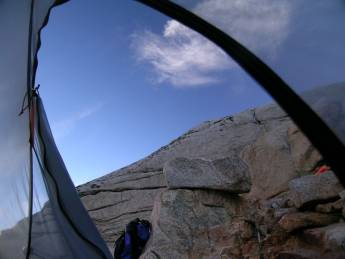 view from Steve's tent in the morning
Journal Entry:  Thin clouds moved in overnight and have been the weather rule for today.  Gusty wind also picked up overnight.  Left camp around 9:00, hiked over talus around the lake and up toward Shepherd Pass.  Visited the two lakes up there, and started down the trail.  Arrived at Anvil Camp in the trees at 1:00.  We have a relaxing afternoon after arriving in camp after 4:00 most days.  Nice sound of the creek here!