Patagonia & Antarctica 2011
Antarctica
Halfmoon Island

Brown Bluff

Gourdin Island

Cuverville Island

Vernadsky Station

Iceberg Alley

Port Lockroy

Neko Harbor

Foyn Harbor

Deception Island

The map to the right shows our cruise route in red.
The city of Ushuaia, in far south Argentina at "the end of the world," was our departing point for the cruise to Antarctica. Several days before this, we were notified that our planned ship, the Polar Star, hit a rock in Antarctica and needed repairs, thus our cruise had been cancelled. Luckily, our travel agent (Polar Cruises) had already re-booked us on another ship, the Ushuaia. We were very glad we didnít have to miss Antarctica! There were around 80 passengers on the ship, which allowed all of us to land at the same time in Antarctica (the Antarctica Treaty allows only 100 at a time).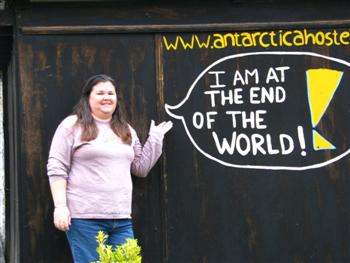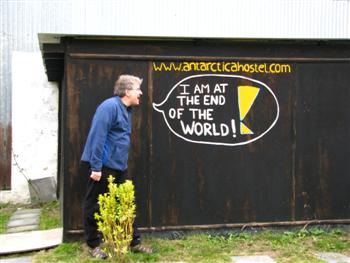 In Antarctica, there are no piers for a ship of this size to dock. All of our landings were done with zodiac boats, inflatable boats with outboard motors. Stairs off the side of the ship led us down to the water where we boarded the zodiacs. We had two landings on the Antarctic continent itself, Brown Bluff and Neko Harbor. All of the other landings were on islands. We had a couple of "zodiac cruises" also where we didn't land at all but instead used the zodiac boats to see the sights. These cruises were at Iceberg Alley and Foyn Harbor.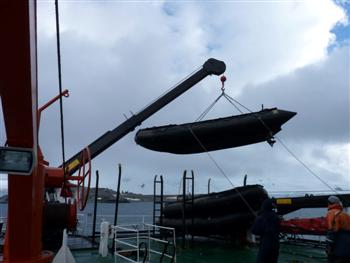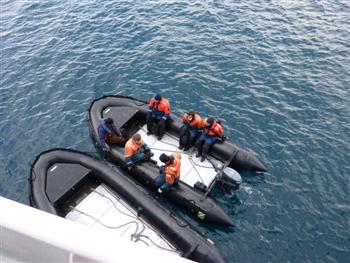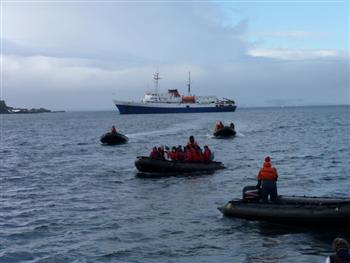 Zodiacs in action
We boarded the ship the next day and had two fairly rough days crossing the Drake Passage. The sea here is one of the roughest in the world, as winds rush around Antarctica without any land mass to slow them down. Both of us survived it pretty well without too much queasiness. Once reaching the South Shetland Islands, the seas calmed drastically and we had five days to enjoy sights in Antarctica, landing on the continent twice (other landings being on islands). Then it was back across the Drake Passage, this time a bit calmer, to Ushuaia.

The

Ushuaia

in port in Ushuaia



Crossing the Drake Passage - view from the bridge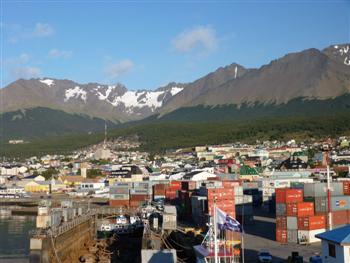 View of Ushuaia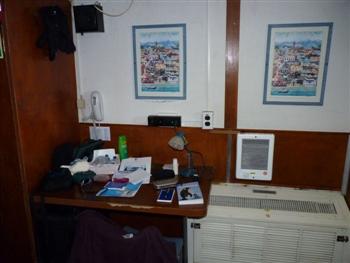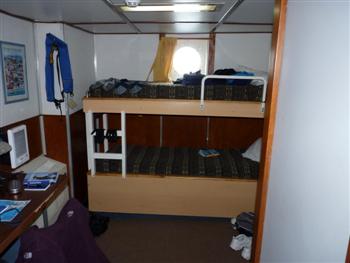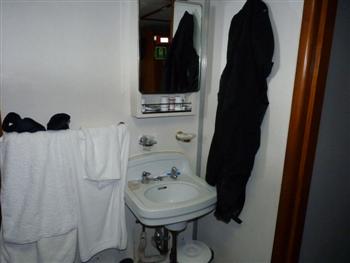 Our cabin (we had our own sink but bathroom was shared with next cabin)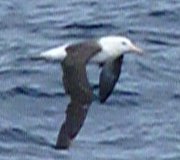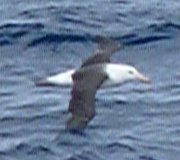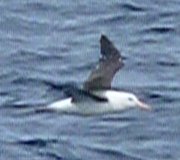 Black-browed Albatross following our ship back to Ushuaia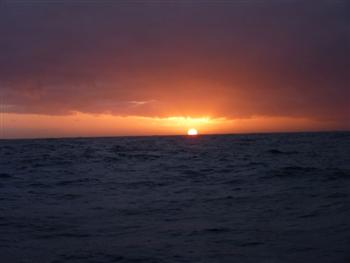 Sunset over the Drake Passage (bit of a challenge to take pictures while rocking!)

Back to Patagonia & Antarctica main page